---
Most popular output devices of a computer are the Monitor and printer.


Output devices of a computer are the hardware components that receive output from a computer and convert them into human readable form.
The human-readable form may be a
visual document
text
printed document
audio
video
Different kinds of output devices are available.
The most common output devices are
Monitor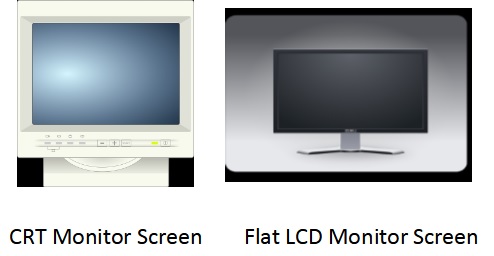 Computer device which is used to display output on screen is Monitor. Monitor is an output device that is used to display any data - video, image, text, streaming data.
Monitor consists of a display screen, circuitry, button to change screen setting, power supply, and casing that bears all of these components.
Monitor is commonly used as an output device that receives the data from the computer and displays it on the screen.
Monitor screen is organized in the form of pixels arranged as 2-dimensional matrix. Pixels are arranged in the form of rows and columns.
Monitors are available in different sizes. There are 2 types of monitors available for our use.

Cathode Ray Tube(CRT)
Flat Panel display or Liquid Crystal Display(LCD)
Early computers used the monitors based on CRT technology.
Modern computers use the LCD in which liquid crystals use the backlight to produce images.
Printer
Printer is an output device that can print data or information on paper.
This printed document is often called as a hard copy.
Printer is connected to the computer either through a USB cable or over Wi-Fi.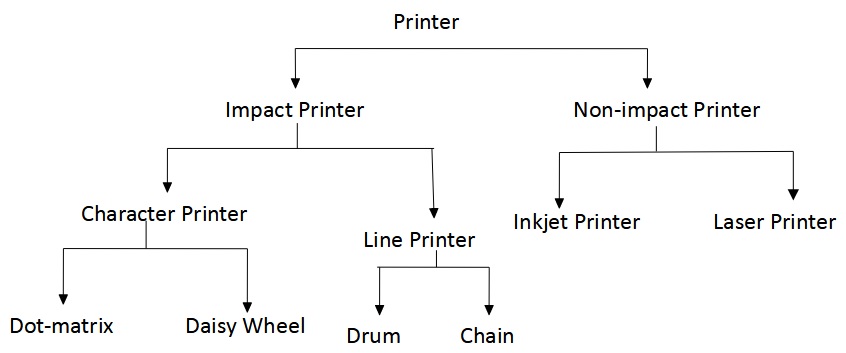 Printers are divided into two categories
Impact printer
Impact printer works with a ribbon that is stroked against the paper in order to print the character. Different types of impact printers are available.
Character Printer
Line printer
Non-impact Printer
Non-impact type of printer prints the character, but it doesn't require to strike the ribbon against the paper.
Non-impact printers can print a whole page at a time. These are further divided into two types
Inkjet Printer
Laser Printer
To know more about Printers, Learn here:





Plotter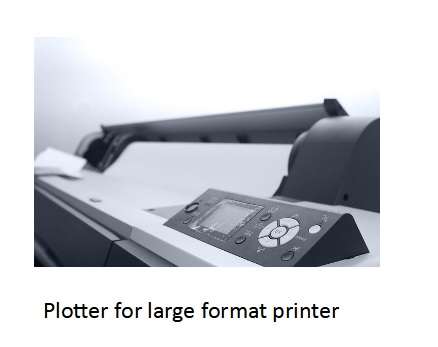 Plotter is a special type of output device.
Plotter uses a pen, pencil, or marker to draw continuous lines for creating an image on the paper.
Plotter is the graphic printer for printing vector graphics.
Usually, the plotter works with the computer's graphics software to produce an image on paper.
Plotter can produce the image in high quality and high-resolution output on large sheets.
Size of the plotters is large and more expensive than traditional printers.
Most popular types of plotter are flatbed plotter, drum plotter, and inkjet plotter.
Plotters are suitable for printing architectural blueprints, CAD drawings, maps, engineering designs, and diagrams.
Speaker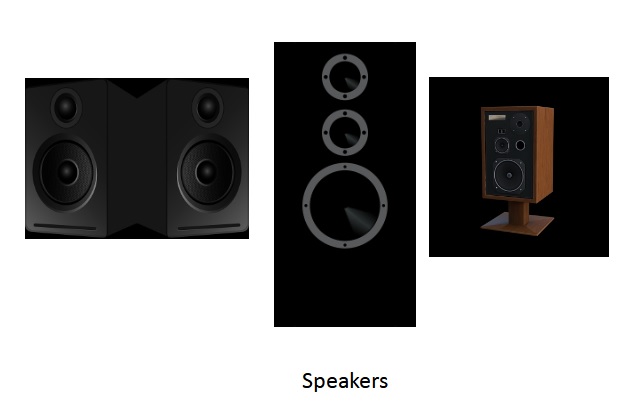 Speaker is an output device that is attached to the computer.
Main use of this device is to output the sound.
Computer requires a sound card for the speaker to work.
Speakers contain an internal amplifier and need a power supply which is given either by an AC adapter or batteries.
Speaker is mainly used for playing audios e.g for the MP3 player.
Speaker can be connected with a computer via USB cable or use wireless Bluetooth speakers (does not need a cable. For connection, it can use Aux jack).
Some speakers can have advanced features like bass and treble control which is used for sound equalization.
For a desktop computer, the speaker is an external component.
For a laptop, a small speaker is integrated within the laptop.
Projector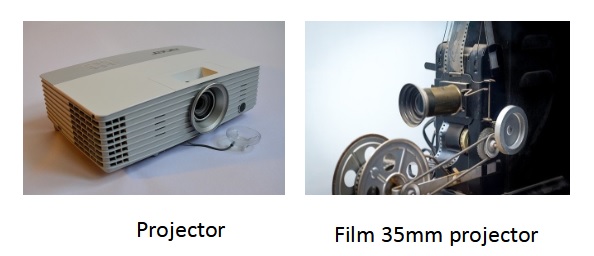 Projector is an output device that can take image or text data from the computer and projects them on the whiteboard screen, wall, or flat surface.
Projector displays images or text on a large screen so that everyone in the room or hall can view the display screen.
Projector use the transparent lens through which images can be created in the form of light on the large screen.
Today, projectors use laser light to create the image on the screen.
Projectors have one or two ports such as VGA ports for old devices and HDMI ports for new devices.
Some projectors can support Wi-Fi and Bluetooth connections.
Usually, the projector can be placed on the table or fixed on the ceiling so that everyone can see the screen.
The projector is often used in different applications
Presenting PowerPoint presentations in classrooms, conferences, office meetings, and business meetings.
Used for video conferences and seminars in colleges, universities, and large organizations.
Presenting slide show and demonstrate the products for the customer in the Education, IT and Non-IT sectors.
Digital projectors are mostly used in theaters to project high-quality videos or movies on the screen.
Projecting a movie or video at the Home theater.
Types
Years

Slide Projectors
Overhead Projectors

During the 1940s -1960s

Digital Light Processing (DLP) Projectors
Liquid Crystal Display (LCD) Projectors
LCoS(Liquid Crystal on Silicon Projector)

During the 1970s-1990s

4K AND UHD Projectors
PICO Projectors
Laser Projectors
Smart Projectors

During the 2000s and beyond
---